Martin Luther King Jr. East Busway
---
Planning for the PATway East, as it was known until December 1, 1977, began almost as soon as the ink dried on the Port Authority purchase of the Pittsburgh Railway Company in 1964. Classified as an "early action" project along with the South Busway, the East Busway had more difficult problems. While its South counterpart would run along newly acquired trolley right-of-way, the East Busway would have to be placed in the only feasible one in the narrow valley where a former Pennsylvania Railroad main line ran. Construction would not being until 1980.
Prior to the opening in February 1983 at a cost of $115 million, a trip from downtown to Wilkinsburg took 45 minutes. On the average the same trip takes 15 minutes nowadays. This busway serves downtown Pittsburgh, East End, and the eastern suburbs of Allegheny County. The average rider ship for route using the busway are 30,000 daily and 7.5 million a year. It is designed for speeds up to 55 MPH, lower speed limits are applied in some twists in the valley.
The first accident to take place on the East Busway occurred on September 29, 1983. Edward M. Butko, Jr., an Allegheny County Sheriff's Deputy, was killed when he crossed the center line on a curve on the busway underneath the Bloomfield Bridge and crashed head-on into a bus. He was transporting a prisoner to a hearing in Homewood and swerved into the opposing lane while offering a fellow officer in the passenger seat a light for his cigar. Only days later another accident took place when on October 1, two men were injured when another police car collided with a Port Authority maintenance vehicle near the Neville Street ramp.
By 1990, time was taking its toll on the busway. In July of that year, a $1 million project began to rehabilitation portions of the busway. Passenger shelters were extended and handrails and brick facing were installed at the East Liberty and Wilkinsburg Stations. A new stairway was built at the Wilkinsburg one to discourage riders from crossing the busway to reach the outbound platform. At the Pittsburgh end, brick and granite curbs cracked from normal wear and tear were replaced and a third parking area was built at the East Liberty Division bus garage. Other work included drainage system repairs and improvements, joint sealing, new fencing installed, landside cleanup, and other cleaning, painting and signage replacement. The project concluded a year later.
In 1991, talk began to surface of extending the busway as far eastward as Swissvale/Rankin or even McKeesport. The cost for going as far as McKeesport came in at $126 million, a far cry from the $204.3 million to renovate the South Hills trolley lines or $902 million to extend LRT service to Oakland. The options studied were as follow:
Extension Option
Cost
Length
Ridership
Station Locations
Wilkinsburg - St. Barnabas Church
$35 million
2.5 miles
48,700

Old train station in Edgewood
Near the Washington Street Bridge in Swissvale
On the Norfolk Southern line near St. Barnabas

Wilkinsburg - Braddock
$49 million
3.4 miles
50,000

Old train station in Edgewood
Near the Washington Street Bridge in Swissvale
On the Norfolk Southern line near St. Barnabas
Near the Braddock/North Braddock border

Wilkinsburg - East Pittsburgh
$77 million
5 miles
50,800

Old train station in Edgewood
Near the Washington Street Bridge in Swissvale
On the Norfolk Southern line near St. Barnabas
Near the Braddock/North Braddock border
Near Dynamo Way

Wilkinsburg - Pitcairn
$119 million
8.8 miles
51,000

Old train station in Edgewood
Near the Washington Street Bridge in Swissvale
On the Norfolk Southern line near St. Barnabas
Near the Braddock/North Braddock border
Turtle Creek
Wilmerding
Pitcairn/Wall border

Wilkinsburg - McKeesport
$126 million
9.7 miles
51,000

Old train station in Edgewood
Near the Washington Street Bridge in Swissvale
On the Norfolk Southern line near St. Barnabas
Near the Braddock/North Braddock border
East McKeesport
McKeesport Transportation Center


Extension proposals studied in 1991.
A study to build park and ride lots in Duquesne, Eastland Mall in North Versailles, and Pitcairn was required as part of the extension study. It was determined that $3 million would be spent to construct these facilities.
On March 4, 1992, a man was seriously injured when he either fell or jumped into a bus from a concrete barrier near the same ramp. Twenty people were injured on May 18, 1993 when a bus plowed into the passenger shelter at the Wilkinsburg Station. The driver, whose license was immediately suspended, later tested positive for marijuana. This accident prompted the Port Authority to install a concrete barrier at the station that same year, and 10 impact-absorbent sand-filled polyurethane tubes at locations around the station a year later. The worst crash to occur on the busway and first head-on crash in the authority's existence occurred on January 12, 1996 that injured at least 52 cost the life of the Penn Hills-Gateway Flyer bus driver, and the other escaped with serious injuries after his Rankin Express bus slid into the opposing lane. Speed, darkness, and snow from the night before and at the time of the accident were the causes.
Although it took four years to complete, the East Busway Extension study finally concluded in May 1993 and recommended the Wilkinsburg to Swissvale option. The new extension would shave 4 to 17 minutes off travel times from Swissvale to the Golden Triangle. Three new stations as well as three new park-and-ride lots with a total of 850 spaces would be built. The three lots included in the 1991 study in Duquesne, North Versailles, and Pitcairn would also be part of the construction. Plans to link the busway with the Penn-Lincoln Parkway via ramps as well as to build a station at the Edgewood Towne Centre were scrapped. Contracts on the estimated $42.8 million project were to be let by late 1994 with an anticipated opening in 1996.
Right after the alignment for the extension was chosen, residents of the Edgewood made their feelings about increased noise, traffic, and pollution coming through their borough heard. Jonathan Hill, resident of East Hutchinson Street and who would be living a block from the busway, mentioned that while 48 trains pass on a daily basis, 634 buses would pass in the same time frame. Not all were opposed to it, as a Port Authority survey concluded. Of hundreds of survey forms sent out, only 150 were returned: 130 in favor, 11 opposed, and 9 no preference. James McVeigh, also of East Hutchinson Street, presented the Edgewood Borough Council with a petition signed by 139 people in favor of the busway. The Edgewood Citizens Busway Committee, which Jonathan Hill is one of the leaders, made clear that they have interest in their community as well as neighboring communities. Member Emily DeCicco felt that the $42 million should be spent to help places such as Braddock and Rankin provide a safer environment as well as recreational facilities. A psychologist who prepares teachers to work in urban areas, DeCicco works in Garfield, Braddock, and Rankin witnessed a drive-by shooting in Garfield while watching a group of children jump rope. She said, "We cannot say to children, 'You have no playgrounds, but you can have buses.'" However, surprisingly, groups such as the Group Against Smog and Pollution and the Sierra Club endorsed the busway. The reason being is that air quality would be improved by the reduction in single occupant vehicles.
While Edgewood viewed the extension as an evil, Swissvale viewed it as a savior. Councilman Jim Schlanger said it would revive the business district, which suffered after Edgewood Towne Centre opened, and create an avenue for people to get to downtown as well as the eastern suburbs. Even people whose homes were slated for acquisition were in favor such as Kathy Lubay. She said, "Obviously I'm upset because I don't want my house taken; I like my house. But overall I can see how the project can benefit the Mon Valley....Actually, it is the best site in Swissvale to put the station."
In January 1994, the Port Authority announced that the Federal government awarded it $13.7 million for construction on the Wilkinsburg to Swissvale extension. However, they could not touch the money until the Federal Transit Administration approved the environmental impact study. Changes to the plans occurred such as added sound barriers, lighting that would focus its intensity on the busway rather than homes, and a change in how it would connect at Woodstock Avenue in Swissvale so as to lessen impact to Mom's House which is a non-profit organization that provides free day care for single, low-income, student-parents who return to school. The three station plan, two in Swissvale and one in Edgewood, was still part of the project even though many in Edgewood did not want a station. Edgewood Councilman Jay Bush, Jr. was one of them saying, "I don't want people parking on our streets the whole day to take a bus. I don't want people walking our streets to come to the terminal." The Edgewood Citizens Busway Committee had no position on a station.
Attention turned away from construction and to rehabilitation in May 1995 when the authority announced repairs would take place on the East Busway. Beginning in July, a $1 million project to patch the concrete surface, fix the Brilliant Bridge over the railroad tracks between East Liberty and Homewood, and repair drains took place that finished in September of that year. "Time and some harsh winters have started to take a toll on the busways," said Port Authority spokeswoman Judi McNeil.
After being sent back to the drawing boards in 1993, the Port Authority announced revisions in the extension plan on May 25, 1995. The transit operator modified the plans for the Edgewood Station so that it would be compliment the historic aspects of the nearby train station at Swissvale Avenue and Maple Avenue as well as make in an inbound-only stop. Air quality was measured at 38 locations, which computer models showed it meets air quality standards but will be better than today's when it opens. Two bridges would be built over South Braddock Avenue in Swissvale; one for the busway and one for the rail line. Sound walls ranging from 9.5 feet to 12 feet high and totaling 3,010 feet in length would be built from near Kelly Avenue to near Edgewood in Wilkinsburg, near Walnut Street to near the Edgewood Station in Edgewood, and from Calumet Street to Melrose Street in Swissvale. Waverly Avenue would be widened up to 15 feet by shifting the railroad tracks between Melrose and Vernon Streets to provide trucks an easier access to the business district. A new design at the Swissvale Station would combine access for buses as well as vehicles accessing the park-and-ride lot. Using flat lenses and shields on lighting will decrease light pollution entering adjacent neighborhoods, and some lights will be decorative. Trees and other vegetation will remain from the Wilkinsburg Station to north of the Edgewood Station to create a greenbelt and natural noise abatement. Due to the changes, the price tag for the extension increased to $57.8 million. However, some such as David Rodes of the Edgewood Citizens Busway Committee, were still unsatisfied. He commented, "This simply does not make sense from a cost justification standpoint. They're spending nearly $20 million per mile to build an extension of a busway which by their own assessment would only take 1,900 riders [round trip] out of cars and put them on a bus."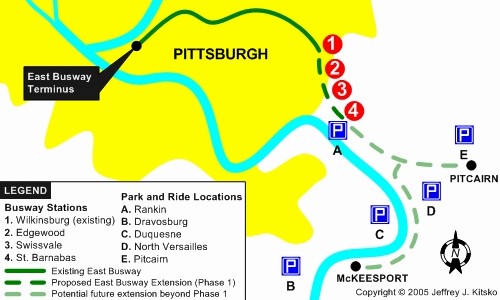 Extension plan released in 1995.
In July 1995, the Port Authority received petitions with 1,140 signatures supporting the project, along with 110 letters of which 19 were against and 11 had no opinion. "Our job now is to pour through those letters, both pro and con, and in a case where concerns are still raised, respond as best we know how," said Allen D. Biehler then the Port Authority's Director of Planning and Engineering now Pennsylvania Secretary of Transportation. Edgewood was still the lone opposition, and showing that when council voted 5-2 in the first week of the month against the extension by using a letter presented to them by the Edgewood Citizens Busway Committee. Borough Coucilmen Dino Samarone and James Yucas were the two who voted against the resolution, with Sammarone showing his displeasure in the council using that as a basis for the vote. He was also displeased with Borough Mayor Ruth W. Pickering letter of opposition, which was written on borough stationary, saying that it showed an official response. She countered by saying, "I am the mayor. There is nothing in the code that says the mayor will not use borough stationary."
While Edgewood continued to on its campaign of opposition, other localities were clamoring for the busway. Monroeville Mayor Thomas Schuerger welcomed the idea of terminating in his borough, but would not support a measure being passed around by the Turtle Creek Valley Council of Governments asking for support for the Swissvale extension. Council member James Brown said, "If it's good for Swissvale/Rankin, that's great. I don't see why it's on the agenda." Most felt the Port Authority short changed Monroeville by not following up on a Parkway interchange which would bring buses there, and even more so, eliminating the LINK service in 1991. That was a mini-bus system that would gather riders at various locations and transport them to central boarding locations, but was stopped due to a dispute over using non-union drivers. The Parkway interchange was deemed unfeasible due to its relatively close proximity to the Squirrel Hill Tunnels.
The extension was not the only thing causing ulcers at the Port Authority in 1996, but a study indicating that one in seven drivers are cited for speeding on busway didn't help. The worst offense was a driver who blew past the Negley Station in Shadyside at 46 MPH, a mere 21 MPH over the posted speed limit. Beginning on August 1, 1995, a blitz by Port Authority Police with radar guns netted 50 citations among the 350 drivers who use the busway. PennDOT's Bureau of Public Transportation was not pleased with the operator's lack-luster attention to speeding buses but was encouraged by the crackdown.
However, good news would finally come to the Port Authority when in January 1996, the Federal government gave the green light for them to move into final design for the extension. The Federal Transit Administration reviewed the environmental studies and public comments, including the Edgewood contingent who opposed the project, and gave their approval. A consultant could now be hired to do an estimated 18 months of work then begin acquiring land and commencing construction. Needless to say, the Edgewood Citizens Busway Committee was not pleased. Jonathan Hill said he was disappointed by the FTA's approval, and accused both the Port Authority and the FTA of ignoring requests over the past several years to meet with the committee. The cost would now run $58 million with construction to begin in 1998 and finish in 2001.
It took an Edgewood resident to come up with a plan to appease all involved. An architectural student by the name of Brian Nogrady, developed a plan that would have put portions of the busway in a tunnel through the community, create a bike path and park beside it, but also create park lands above. Not only did Edgewood Borough council approve the idea, but also Jonathan Hill who opposed the busway and Jim McVeigh head of Friends of the Busway who liked the busway approved of the plan. Nogrady felt the project was so important that he took a break in his work towards a master's degree at the University of Pennsylvania in Philadelphia. He said he had submitted a written plan to Federal officials who turned it down citing crossroads. His idea began at the Wilkinsburg Station and have the busway be built in a trench nine feet below ground level. It would go into a tunnel at Race Street to a depth of 18 feet and be 975-feet-long to Elm Street then return to ground level to cross the Parkway. Then one option is to place it below ground under Edgewood Avenue into Swissvale, but it would have to return to ground level to cross Braddock Avenue then dip below once again so that a 1,000 foot-long park could be built on top.
To conduct an economic impact study, Nogrady enlisted the financial help from the communities along the proposed alignment. Swissvale granted $500, Keystone Grant gave $15,000 matched by Swissvale Economic Development Corporation; however Edgewood nothing citing it had no money to grant. Wilkinsburg became the first community to reject the linear park idea in a 5-3 vote by council on June 5, 1997. President Alexis Nedley said afterwards that the park was "a tactic to delay the busway and the extra cost of its construction would be passed on to riders and taxpayers."
PAT agreed with Wilkinsburg council but scaled back the park plan which would bring the project in at $62.8 million, a far cry from the more elaborate plan by Brian Nogrady which would have cost $95.5 million. Mike Moorman said that besides being expensive, the plan would give the East Busway a "canyon effect." Dino Sammarone, former Edgewood Council member, said that it didn't need a park to bring economic benefits to those communities. GAI Consultants of Monroeville conducted a nine-month, $158,000 feasibility study on Nogrady's plan and concluded that the tunneled sections could be eliminated, keep the biking and hiking trails and community park in Edgewood, relocate the station from the old railroad station to the Edgewood Towne Centre, and narrow the open spaces and trails in the original plan. Again the Port Authority was at the center of the storm by going with a scaled back version of the park plan by the end of 1997, especially citizens of Edgewood who told their mayor how they felt. Formal approval to move ahead took place on December 13 without the elaborate parks citing that tunneling the busway to build them would delay construction at least two years, increased operating expenses, slow bus speeds, and pose safety problems. Many continued the fight for the park such as U.S. Representative Mike Doyle (D) of Swissvale who said he would try to get Federal funds.
The busway/light rail debate lingered into 1998. Several Swissvale officials feared that the resistance by Edgewood would cause the transit authority to back down from the project all together. "I like the idea of light rail," said Swissvale Councilman James Schlanger, "but if it's the busway or nothing, I'll vote for the busway." Swissvale Council President Charles Martoni also wanted the Port Authorty to consider linking the busway with the Mon-Fayette Expressway rather than it end at Woodstock Avenue in his borough. The authority listened to both pro-busway Swissvale and anti-busway Edgewood at a meeting on April 22, 1998 to listen to concerns. The authority had been meeting with PTC to get a 1.7-mile extension incorporated into the PA Turnpike 43 project; however, the boroughs request for light rail was still denied but would be something they would work with the communities to do years down the road.
Upon hearing this news, many communities changed their tune. Edgewood continued to oppose, and Swissvale joined in, as well as the Turtle Creek Valley Council of Governments who had supported an extension. They opposed it for four reasons: air pollution, noise from 300 buses-a-day, additional traffic on local streets, and sound walls that would be intrusive and unsightly. The officials called the Port Authority park idea little more than "a 6-foot-wide sidewalk." They pressed them to seriously study the time, money, and work it would take to convert it to light rail and eventually extend it to the Mon Valley. The Port Authority obliged and hired national consulting firm DeLeuw Cather to undertake the study. The results showed it would cost $353.2 million to convert the current busway to light rail as well as extend it to Swissvale. It would also create problems for bus riders who traveling from Monroeville to downtown would have to go to Swissvale to transfer to LRT. State Represenative Tom Michlovic (D) of North Braddock urged officials opposing the busway to reconsider after the report was made public. He said, "I am not about to let many years of planning and effort go by the wayside and cause the delay, or outright elimination of a $63 million project." Monroeville still wanted details on the busway before it decided. The Main Line Park Task Force, a group of municipalities that oppose the busway, was pressuring Monroeville Council to pass a resolution asking the Port Authority to delay the busway. However, State Representative Joseph Markosek (D) from Monroeville and member of the transit operator's board, saw no reason saying, "We have the money for it now. Why hesitate now and cause cancellation of the money for this? We do not have $350 million."
Nothing would stop construction as on October 16, 1998, the Port Authority's Board of Directors' engineering and construction committee approved purchase of three Swissvale properties. Work would begin in the spring on one mile of the extension from the Wilkinsburg Station to the Penn-Lincoln Parkway, including preliminary work on a Walnut Street Station and 120-space lot in Wilkinsburg, bridge over Braddock Avenue near Edgewood Towne Centre, and bridges crossing Southern Avenue, Rebecca Street, and Wood Street in Wilkinsburg. As well as turning a three-acre site on PA 837 in Duquesne into a park-and-ride lot. Forty percent of the final design had been completed.
By February 19, 1999 things were still on track for the Port Authority. That day they announced that the Wilkinsburg Station would be moved one-quarter of a mile closer to the City of Pittsburgh line. Also approved was the $5 million linear park along the extension from Wilkinsburg to Swissvale, but Edgewood was the hold out again. The transit operator said if no agreement could be reached, the park could not be built through Edgewood but it would not stop the busway since there would be no busway access roads in Edgewood. In Wilkinsburg it would tie into an existing park near the Franklin Street Tunnel, as well as the Hays Street Station would be replaced with new stations at Wallace and Walnut Streets.
Construction began in July 1999 with contracts let on June 18 at the Board of Directors' meeting. None of the affected communities had signed cooperation agreements with the Port Authority, but preliminary work could begin without them. However, completing the busway without them could not be accomplished. Project Engineer Michael Moorman would not comment on what would happen if that occurred. A 12-member task force met with Moorman on May 4 to discuss various aspects of the extension, which included the proposed terminus at Woodstock Avenue. They recommended a ramp for bus-only traffic to connect to the station to alleviate congestion on Braddock Avenue and the Kenmawr Bridge. Extend the busway to the proposed Mon-Fayette Expressway, both of which the authority had money to perform. The task force as well as Swissvale Planning Commission wanted a reconsideration for the linear park as the width of the park would not conform to standards set for bike trails in Pennsylvania. The SPC also wanted the bridge over Braddock Avenue redesigned to allow for a ramp or stairwell for pedestrians on Edgewood Avenue as well as a placement of stations in key business areas such as Edgewood Towne Centre.
On May 30, 1999, the Port Authority agreed to pay Norfolk Southern up to $3 million to relocate 80% of the carrier's dual tracks through Wilkinsburg, Edgewood, and Swissvale. Sections of track were temporarily relocated, moved permanently, or lowered so that the busway could be built alongside. It would not be an easy task as the lines are active with dozens of freight trains and four Amtrak trains every day. On May 31, work began to strengthen the Braddock Avenue Bridge where the first tracks would be moved. Work was only performed between 11 PM and 6 AM to minimize disruptions to traffic on Braddock Avenue near Edgewood Towne Centre. On September 18, the authority awarded Betters Company Incorporated of McKeesport a $409,000 contract to demolish nine structures acquired, reimburse Qwest Communications International up to $575,000 to relocate fiber-optic cable along the Norfolk Southern alignment, acquire rights to property owned by the Wilkinsburg-Penn Joint Water Authority on Center Street at the Wilkinsburg/Edgewood line, and $37,500 to the Diocese of Pittsburgh for an unused parking lot on Woodstock Avenue in Swissvale. By this time, Edgewood and Swissvale were the only ones not to sign off on the project.
Swissvale signed off on it in August 1999, despite recommendations from Swissvale's Transportation Task Force. "We're firmly committed to the busway coming through," said Councilman Mark Foerster. "It's in the best interest of Swissvale and its residents." The Swissvale group, which included Planning Commission Chairman Chuck Sterrett, attorney Bill Price, and Swissvale resident Karen Larsen reviewed the proposed agreement between the Borough and Port Authority. The group was not concerned that the transit operator did not have a signed sales agreement with Norfolk Southern Railroad. They also questioned if funding was in place, and it indeed was as the Port Authority stated. The Board of Directors would be meeting on July 23 to decide whether to accept a bid by GASA, Inc. to begin work on the Braddock Avenue Bridge. The authority also announced its plans to clean up the former Regent Bottling site on Waverly Avenue and improve traffic flow on South Braddock Avenue near the Edgewood Towne Centre helped grease the skids.
Edgewood, the lone holdout, might get bypassed if it did not agree as an August 5, 1999 article in the Pittsburgh Post-Gazette mentioned. If a compromise could not be reached, the busway would still be built on Norfolk Southern Railroad right-of-way without a station to serve Edgewood. However, the Port Authority was still holding onto hope that an agreement would be reached. Still feeling slighted at not getting LRT service as the South Hills and soon North Shore would be getting, Edgewood felt that litigation might be the last resort to stop construction. Council went as far as hiring Edgewood lawyer David Rodes, another opponent of the busway, to investigate legal action. General Manager Paul Skoutelas said no meetings had taken place with borough officials to address concerns and none were scheduled, and insisted that the Port Authority has been willing to work on design issues with them. He said supplemental environmental studies to address concerns of water runoff from the busway, as well as public meetings would happen before ground would be broken.
By 2000, the following revisions had been made since the final design:
Wilkinsburg Station and Park and Ride
Station will be relocated 600 feet north of the existing location to accommodate a 750 space lot. Hay Street stop reconfigured to accommodate an inbound and outbound platform.


Walnut Street Station and Park and Ride
Edgewood Station will be eliminated and a new one built at this location instead, as well as a 100 space lot.


Edgewood Railroad Station
Although it will not be used as a station, the Port Authority was still committed to rehabilitating the historic railroad station.


Saint Barnabas Station and Park and Ride
Land added near the proposed station to increase capacity by 29 spaces and the station reconfigured to accommodate the larger lot.


Rankin Park and Ride
Lot will be relocated on 0.6 acres at Jackson Street near Kenmawr Avenue at the request of Rankin officials. Also makes for a better access for cars and a bus stop will be built next to the lot.


Monroeville/Pitcairn Park and Ride
Removed from the project due to the addition of parking spaces near the busway.


North Versailles Park and Ride
Lot will be relocated from the Eastland Mall to the new Super Wal-Mart on US 30 and an increase in spaces from 155 to 200, but will be built by private entities.


Duquesne
Construction began in June 1999 on the lot on PA 837 and was completed in December 1999, but numbers of spaces were decreased during final design from 324 to 311.
The first project that was part of the extension construction began in February 2000, GASA, Inc commenced demolition of the former railroad overpass that spanned South Braddock Avenue. The $3.9 million contract was for demolition and replacement with two new bridges, one for the busway and one for the Norfolk Southern Railroad, raising the clearance from 10 feet-6 inches to 14 feet-6 inches as well as widening South Braddock Avenue and installing a turning lane onto Church Street. A traffic signal would be installed at Church Street and South Braddock Avenue. The structural steel for the bridge was installed in March 2001.
Payment of $7.5 million to Norfolk Southern Railroad was approved on February 18, 2000 to acquire rights-of-way to allow the busway to be constructed along their rail lines. The price was based on the sale of similar property some 20 years earlier along the existing East Busway as well as the price paid for West Busway property and inflation. Construction would take two years beginning with temporary relocation of the tracks and construction of a new South Braddock Avenue to the railroad and busway. "By acquiring the property today, we assure the corridor will be there for the busway and for a possible light rail system in the future," said Henry Nutbrown, engineering and construction manager.
The Rankin Community Development Corporation filed suit against the Port Authority for discrimination citing that only affluent white neighborhoods are offered light rail and racially-mixed ones are given "inferior" busways. Filed in Federal court in July 2000, the suit was backed by Edgewood, another community development group, and several black and Hispanic residents. The lawsuit was withdrawn in March 2002, the same month an agreement was hammered out with Edgewood. Under the agreement, Edgewood would provide fire, police, and ambulance service and the Port Authority would provide $250,000 for upgrades to the equipment. A full service stop would be built at Edgewood Avenue with a pedestrian bridge over the avenue. The authority would also work on a long-range economic development plan for the borough as well as work with them to decorate the walls of the busway within the borough's limits. Swissvale saw an improvement in Summer 2000 when the former Swissvale Surplus Auto Parts site was cleaned up, which removed it from a statewide listing of environmentally hazardous sites.
Groundbreaking for this additional 2.3 miles took place in April 2001, when Mosites Construction Company began construction on the right-of-way and park and ride lot in Wilkinsburg near South Avenue and Walnut Street. By June they would get the contracts for the three stations and linear park. That same month, GASA completed the new railroad bridge over South Braddock Avenue. Norfolk Southern Railroad moved their tracks along the corridor between July and August 2001. In August 2001, construction on South Avenue, Wood Street, and Rebecca Street bridges and using the original abutments saved thousands of dollars.
Even as completion of the extension was on the horizon, residents of Edgewood were none to happy. Approximately 150 people attended a meeting at the Edgewood Club to convince the borough council that they should sue the Port Authority over the extension. While Wilkinsburg, Swissvale, and Rankin had signed cooperation agreements with the transit operator, Edgewood was the lone hold out. Edgewood even sent the transit operator a cease and assist order to halt construction in October 2001; however, construction continued. Although the Port Authority was willing to pay to repave Edgewood Avenue from Maple Avenue to LaCrosse Street and widen the sidewalks and plant trees, in addition to paying $60,000 for construction costs, $65,000 for an economic development study, and $250,000 to upgrade police and fire equipment. In addition, they pledged in May 2000 to give $300,000 to Edgewood to refurbish the historic train station there, which at the time Councilman Edward C. Schmidt viewed as trying to "bribe the community with nothing." Some residents wanted to pass on the "shiny package with a nice bow" and the reason being is simple: buses use gasoline and emit exhaust while light rail vehicles do not. The Port Authority looked at building an LRT extension to the east, but cited $400 million and take 10 to 15 years to complete as the reason for the plan's dismissal. However, the extension would be built with the idea of future conversion to LRT. Borough Council Vice President Patricia Schaefer warned the crowd that litigating might solve the problem but cost Edgewood in the long run. "If we litigate, the money's coming from us," she said. "And if we do, what services do we eliminate?"
Residents also made Henry Nutbrown of the Port Authority aware that if light rail could not come, to run buses on it that use cleaner alternative fuels such as natural gas. He agreed that it should be a priority and be placed in the Eastern Corridor Transit Study. Still others disagreed with the construction of the busway, citing it was not designed properly and built in the wrong place.
By Fall 2002, Mosites Construction Company had completed the paving of the busway from the end in Wilkinsburg to the Penn-Lincoln Parkway overpass. Drainage and embankment construction had been completed from the Parkway to the Swissvale Station, Hamnett Park and Ride Lot was paved, and sound wall installation was finishing up between Kelly Street and Race Street. The Linear Park was 50% complete with construction of a new curb and concrete walkway along Edgewood Avenue in Swissvale almost finished. Lighting along that part and foundation for the gazebo in that borough had been installed, with light poles and fixtures installed through the Wilkinsburg part. Canopies and lighting had been installed at the Hamnett and Roslyn Street stations. New lighting installed and asphalt pavement laid at the Wilkinsburg park and ride lot, which would open in December 2002. Canopies were installed on the inbound and outbound platforms in the station and the inbound lane of the busway as well as drainage for the station and lot were finished.
Around this time, name changes took place for stations along the extension. The Wilkinsburg Station's name remained the same, but Walnut Street was change to Hamnett, Swissvale to Roslyn Street, and St. Barnabus to Swissvale. The existing stations along the busway got a makeover which began in Spring 2002. Concrete replacement, electrical work, signage and canopy improvements took place at Herron Avenue, Negley Avenue, East Liberty, and Homewood Stations which finished in September 2002.
Not all of the work was taking place within the busway right-of-way. Waverly Avenue in Swissvale, which parallels the busway, was reconstructed with added drainage and new pavement. By Fall 2002, it had been completed from Center Street to Melrose Street. A new drainage system was installed in Rankin, which consists of a separate line for storm water which allows the existing system for sanitary means. The project was 85% complete by this time.
Finally on June 15, 2003, all of the arguing and talk of lawsuits was in the past as the $68.8 million project opened to bus traffic. The Federal Transit Administration paid 80% of the cost, with the remaining kicked in by the state and county. Money collected from fares are not used in capital improvements such as the extension. At the opening ceremonies, Port Authority Chief Executive Officer Paul P. Skoutelas said, "The opening of the Extension on Sunday, June 15, 2003 marks yet another advancement in Port Authority's efforts to continue to improve public transportation within our region. In our continuous efforts to enhance and expand public transportation and build community partnerships, we know strides still must be made to continue developing a multi-faceted transit infrastructure that will help support the economic vitality of this region for years to come. This is the crux of Port Authority's mission of 'Connecting People to Life.'" Joining in on the ribbon-cutting were Allegheny County Chief Executive Jim Roddey, Secretary of Transportation Allen D. Biehler, and local, state, and Federal elected and appointed officials. Port Authority customers, Allegheny County Transit Council members, representatives from the Port Authority's Committee for Accessible Transportation, and officials from communities along the extension were also in attendance. The linear park which was the cause of so much debate, contains benches, trees, landscaping, bike racks, decorative railings and lighting, gazebos, and a children's play area. Project manager Mike Moorman said optimistically of future growth, "Within a decade, we hope to add 10,000 new riders from the eastern suburbs and Mon Valley."
One piece that remained unfinished was the Kenmawr Avenue ramp, which is a 500 foot, two-lane highway which buses will use to access the East Busway from South Braddock Avenue at the Swissvale Station. The Federal Transit Authority gave the go ahead for construction in Spring 2002 after reviewing the environmental studies and public comments. Construction began on April 25, 2003 and opened in December of that year, which allowed a number of Mon Valley routes to be moved from Woodstock Avenue and Vernon Avenue. Six families were displaced with the construction of the ramp which cost $632,000 after factoring in buying the properties, relocating the families, removing utilities, and actual construction.
Links:
Martin Luther King Jr. East Busway Map
---

INFORMATION
Western Terminus:
Liberty Avenue and Grant Street in Pittsburgh
Eastern Terminus:
Kenmawr Avenue in Swissvale
Length:
8.90 miles
Name:
Martin Luther King Jr. East Busway
PATway East
Emergency:
911
412-255-1350 (Port Authority Police)
---
Back to Pittsburgh Highways
Back to Pittsburgh Busway System
Page updated May 01, 2020.
Content and graphics, unless otherwise noted, copyright © Jeffrey J. Kitsko. All rights reserved.
Information courtesy of Port Authority of Allegheny County, Pittsburgh Post-Gazette, Pittsburgh Press, and Bus World.